A Net Zero Building with a Net Positive Outcome
October 2, 2020 / Welcome Magazine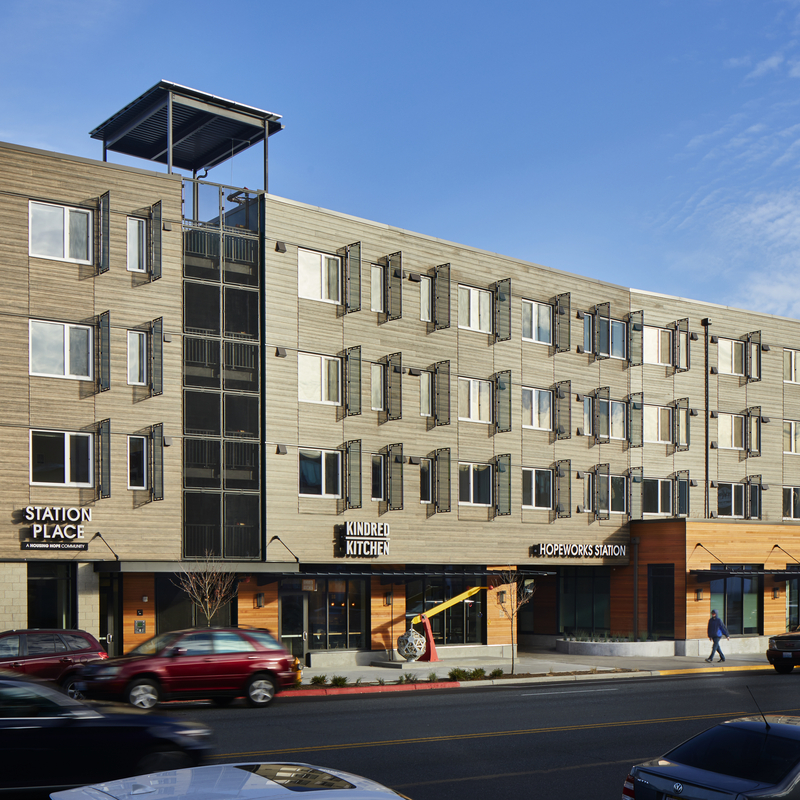 HopeWorks Station, the four-story, 67,000 sf building is the first building in Everett to be awarded LEED Platinum status. The building has the ability to even generate its own electricity with the 532 solar panels covering the roof of the building and parking lot. The building was created with a Net Zero energy-use target in mind, if residents and staff manage their power use right, those solar panels could generate more electricity than the building needs.
Housing Hope and HopeWorks are affiliated agencies working together to fight homelessness and poverty. Housing Hope was founded in 1987 to develop housing for homeless and low-income families; HopeWorks was formed in 2011 as a social enterprise, providing skills training and other support, so Housing Hope residents can be successful in the labor market.
Above the businesses are 65 apartments – ranging from studios to two-bedrooms – that are primarily reserved for three groups of people at risk for homelessness: veterans, families enrolled in Snohomish County drug court programs, or people between 16 and 24 who lack stable housing. And the building hosts classrooms where residents can get life skills training and other support they need. HopeWorks Station provides both housing and job training for people who've had a hard time finding stability in both.