Landscape Architecture in the Time of COVID-19
July 30, 2020 / Seattle DJC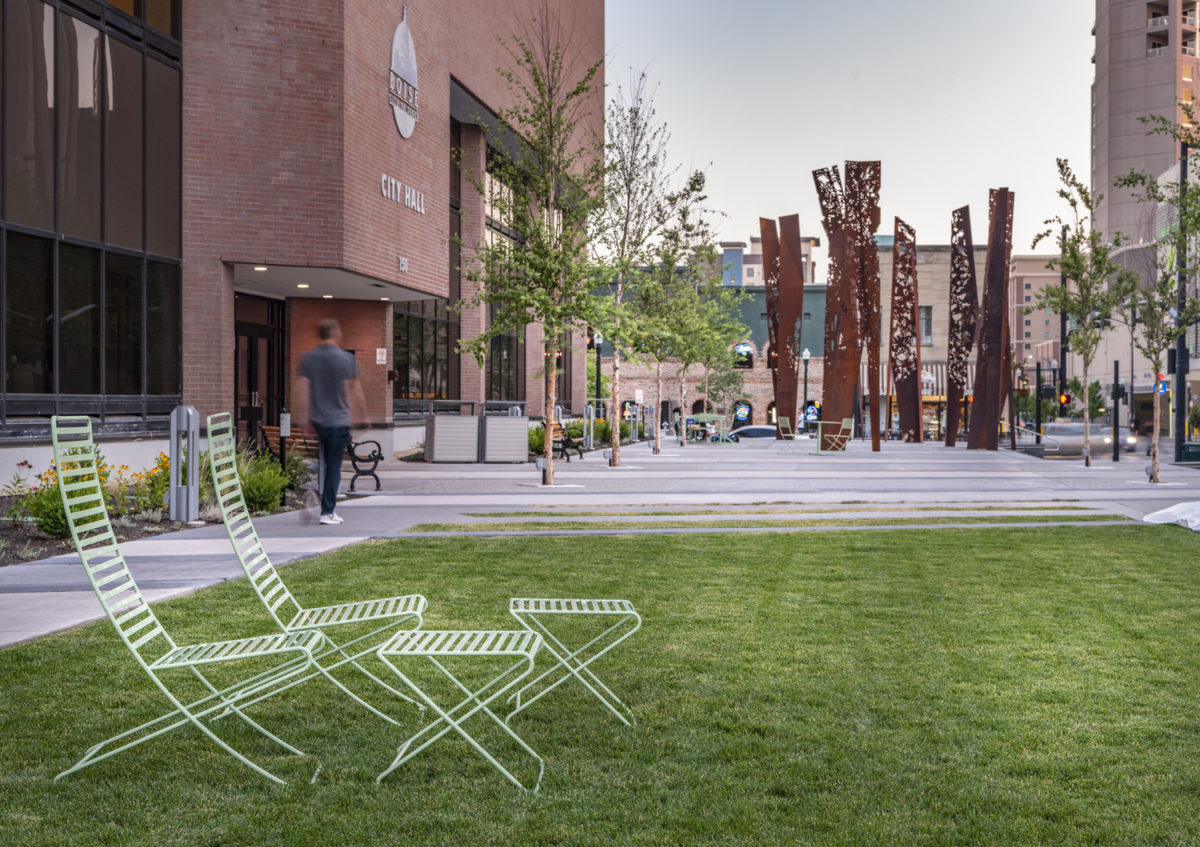 Written by Mark Sindell PLA, ASLA, LEED AP BD + C, CLAB, LFA (Member, Principal at GGLO)
If you told me a year ago that I would soon be spending the majority of my work day either in my backyard, my basement or my Airstream I would've given you the side eye. Yet since the first of March, that is exactly where my working life has been taking place. It took a bit of time to adjust, and there are many things about working from home that I like. One of those things has been the opportunity it has afforded our landscape architecture team to reflect on what the long-term impact of the "Time of Corona" might be.
Prior to stay at home orders, we in the US were at the peak of a cycle that heavily emphasized social/gathering space and minimized individual space in the design of housing, offices, hospitality and educational environments. As you can see from the abundance of webinars and articles available in the past month or so, Covid-19 appears to have broken that cycle, encouraging us to shift us back to balancing "I" and "we" spaces with a little more emphasis on the "I".
Living and working in the Pacific Northwest, I've had the good fortune to have worked with, Lisa Picard while she was at Skanska, during which we used her (1-2-4-all) formula as a guide for developing urban landscapes that are flexible enough to support solo, couple, small group and large group activities. This kind of flexibility, which was important pre-Covid, is just as valid now, although we're seeing increased emphasis on individual and small group uses, at least for the short term.
Our strategy for landscape design for urban projects is to weave together Picard's "1-2-4-all" formula with what we call our 24/7/365 Program Wheel. Expanding on the Power of Ten concept from Project for Public Spaces, we recommend that any successful public open space should have enough variety of uses to be functional day and night, 365 days a year. Thus as we program open spaces, whether we're talking about a public plaza in front of a city hall, a roof deck on a multifamily housing building, an urban park or a university quad, we pay attention to the variety of ways that space can be used across seasons and times of day, as well as different sizes of groups. Sure, the larger the space the easier this is to accomplish, but flexibility and diversity can exist in all sizes of urban landscapes. The delicate balance is to figure out how to deliver more with less, without getting so watered down that the landscape doesn't mean much/do much and therefore loses its uniqueness.
As an example on a smaller scale, let's look at a roof deck we've done for a downtown Seattle high rise apartment building. We have firepits of different sizes and scales so 1-2-4 and all can use them. Outdoor tables and chairs include a modified farm table so you and 12 of your closest friends can celebrate your birthday, as well as 4-tops and deuces for working from home or for intimate gatherings.
In Caldwell, ID, we use both hardscapes and plantings to transform a relatively small town square into a sought after tourist destination. The space features a shaded bandstand, landscaped lawn areas for picnicking and hardscapes to support a weekend farmer's market, art fairs and other summer events. During the winter, parts of the hardscapes are transformed into a skating ribbon. Firepits provide year-round warmth and areas of respite for small groups. This small but mighty project has breathed new life into the city of Caldwell, bringing back retail, restaurants and visitors from the surrounding five states.  Support for social distancing in this environment can be achieved merely by setting up fewer seating areas, and spacing farmer's market tents a bit farther apart until the threat of widespread contagion is a distant memory.
It's important to remember that we won't be here for the rest of our lives, so we don't want to overcorrect. I think of the current pandemic is akin to a 100-year flood. It's the kind of thing that happens rarely but has substantial impact. That said, recent levels of climate change have taught us that what we once thought of as 100-year floods are beginning to happen as often as every five years. Given humanity's global mobility, it's reasonable to assume that experiences like this current pandemic could also be more frequent than 100-year cycles. The SARS epidemic in China in the early 2000s and the outbreak of MERS on the Arabian peninsula in 2012 were similar, though not as widespread, phenomena.
Our goal in designing urban landscapes is to create active, beloved spaces, that are safe, that support social distancing when needed and that allow for connections nonetheless. We want to pay attention to patterns, respect context, contribute positively to environmental sustainability, and make flexible choices that create a whole that is greater than the sum of its parts.
There are some changes we expect will be with us for the long haul. Typically stairs and walkways are too narrow to support social distancing. Stairs and walkways are better designed when thought of as integral parts of the environment, not afterthoughts. Some municipal standards might require review. For example, standard sidewalk width in city of Seattle is six feet, which is why we see folks walking in the streets as they pass each other and why the short-term solution bandied about is to close certain streets exclusively for pedestrians and bicycles. Walkways have historically been too narrow to support healthy distancing because we think of them only as non-monetized intangibles rather than as an integral part of the landscape design.  Intangible things done right can create both revenue and a delightful user experience. Not enough can be said about creating unique experiential frontage (e.g., trailside walkways, access stairs and bike paths). It's a misnomer to think that these are "wasted spaces". The visionaries among us understand this and can therefore imagine something like the High Line in New York or Millennium Park in Chicago. When smart developers join smart designers in creating better environments, everybody wins.
People in urban environments have often sought opportunities to get away from density, stress and traffic, toward fresh air and open space. Now that we all understand just how easy it is to work and collaborate remotely, this desire could influence flight from large cities to less densely populated areas if we can't find a way to mitigate the challenges. Thoughtful urban development preserves what's good about urban areas and, as cities like Boise, Bend, Bozeman, and South Lake Tahoe continue to grow, expansion strategies must include thoughtful landscape design so we don't destroy the very natural environments people are leaving the city to find.
My firm has an office in Los Angeles, a city with a reputation for somewhat stubbornly hanging onto its car culture.  Yet when you look at where folks are taking their cars to—the beaches, and bike paths in Venice, the boardwalk at Santa Monica Pier, the hiking paths in the Hollywood Hills—we see that even there, hunger for access to nature persists. The city of angels is changing with expanded public transit and mixed-use developments with public/private, walkable realms. Good landscape architects can be part of the solution by creating urban environments that are nice enough to encourage folks to leave their cars behind.
Finally, as I watch protesters march peacefully in the face of unspeakable and unnecessary violence against people of color, renewing a desire to combat institutional racism, I'm reminded that we need to talk about equal access to nature in cities. Access and safety must be available to all visitors. The kinds of sightlines, thoughtful plantings and hardscapes that are features of what can be called "defensive design" are best when used to promote reassurance, not hostility. In multifamily housing, affordable or not, balconies become essential in times like these so everyone can get a literal breath of fresh air and ray of sunshine.
As I finish writing my thoughts here, birds are chirping, plants are blooming, the sun is just beginning to set and I feel a gentle, cool breeze that's just on the comfortable side of sweater weather. I'm headed out in the Airstream this weekend to reconnect with the wilderness, bringing the best of its soul balm back with me to inform the urban environments I design going forward. Mother nature is not only a source of comfort, but of inspiration. Let's demonstrate our gratitude for all she has given us with thoughtful urban landscape architecture and design.